Les Voix Celestes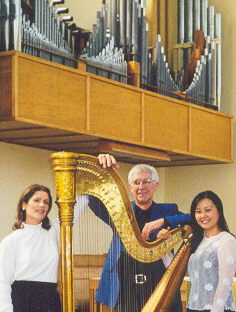 Gina Sanders, soprano
Yi Jing, harp
Laurence Jenkins, organ
The only trio of its kind in the world!
Les Voix Celestes (Heavenly Voices) has been surprising audiences and critics for five seasons in New Zealand. Here's what they're saying about us:
"...a concert by Les Voix Celestes is an occasion not to be missed by music lovers." - The Chronicle, Kerikeri
"...seldom is a recital a delight from beginning to end, as this one was." - New Plymouth Daily Mail
"Sanders' engaging personality was evident from the outset and the delicacy of the organ and the piquancy of the harp were delightful." - Whangarei Northern Advocate
"the music was accessible..romantically lush and above all totally enjoyable" - The Nelson Mail
"..a rarely seen or heard grouping..." NZ Herald
" 'Nocturne'...was simply beautiful." - Northern News, Kaikohe
Gina Sanders is one of New Zealand's most versatile sopranos, appearing in everything from opera to show, passing oratorio and recitals on the way. She has sung with all of the country's opera companies, orchestras and choirs and now has a following in Australia and the East.
Yi Jing, trained in Shanghai, was a prizewinner in competitions in China and Japan before coming to live in New Zealand, where she is kept busy by all of the country's orchestras and serves both the Auckland Philharmonia and the New Zealand Symphony as Associate Principal harpist.
Laurence Jenkins, international organ recitalist, conductor and critic, lived in Europe before arriving in New Zealand. He regularly tours his native USA and returns to play recitals in England, Sweden and Germany every two years. He is musical director at St. James's Anglican Church, Lower Hutt.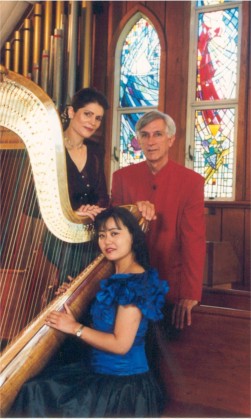 Lex Voix Celestes offers a range of programmes
Heaven Sent, Earth Bound celebrates Nature and the seasons
Tiaras and Top Cs brings you excerpts from Opera and Operetta
Nocturne - moods of the Moon - music by great composers in praise of the Night
Ask for our repertoire list
We also offer a promotion pack, including a press release tailored to your concert,
posters and programmes.
Listen to our soundbite - a few seconds of 'Song to the Moon' from Dvorak's Russalka. This may require a download from Macromedia.
If you wish to repeat the song click 'Refresh' or 'Reload' on your browser
Bookings: email larryj@xtra.co.nz


<!- comment only - doesn't work!a href="#song"To repeat this song click here/a If you have Media Player installed, click here (coming soon) to listen to our higher quality soundbite ->